Posted by Celia Sanchez on 27th Jan 2023
New year, new high quality solutions for your lab.
It wouldn't be a new year at Heathrow Scientific without a line-up of fresh and innovative products to greet our customers with. We spent last year asking ourselves What's missing? Where can we make things better, easier, and more reliable? We looked, and we listened, and we couldn't be more excited to share our upcoming releases with you. In the spirit of new ventures and enterprises, please join us as we kick off 2023 with our brand-new Safety Bottle Carriers and Liquid Weighing Pour boats; two functional and thoughtfully designed tools to bring convenience and cleanliness to your lab this year and beyond.
New! Safety Bottle Carriers: Bigger, Better, and Greener than the competition.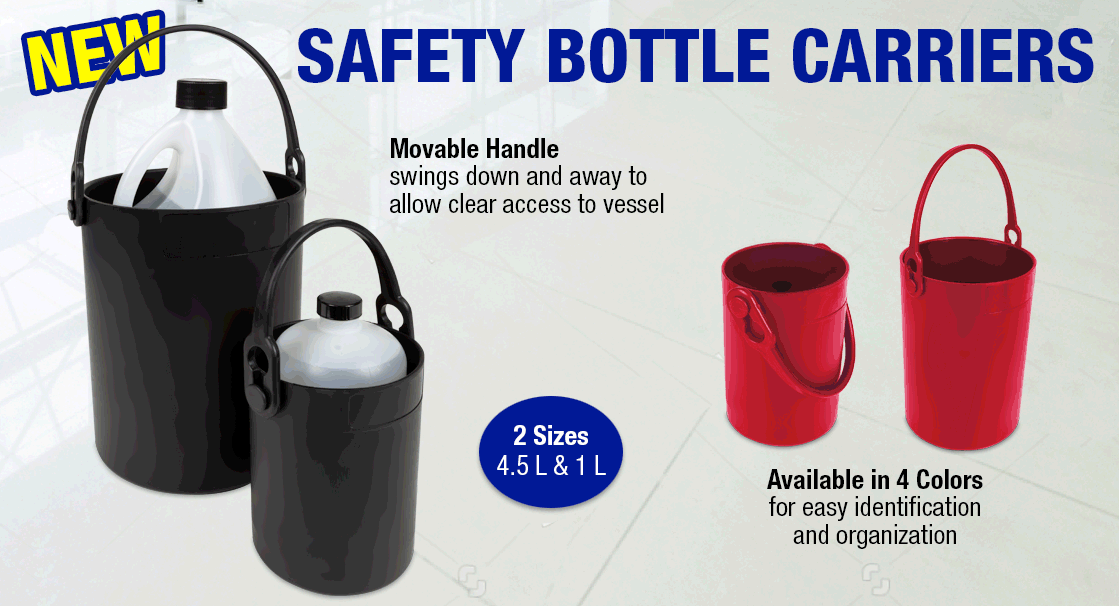 The Safety Bottle Carriers by Heathrow Scientific are the safe and reliable answer for transporting a variety of bottled reagents in your workspace. Available in 1 and 4.5 liter capacities, as well as four color options, this product is fit to manage the organizational needs of virtually any laboratory setting.
Innovation in the palm of your hand…literally.
The carrier's ergonomic handle is thicker and wider than the competition, distributing weight more effectively to prevent hand fatigue and related accidents. The handle also swings down to either side of the carrier, allowing clear access to the vessel while loading and unloading. A centering ring is molded into the bottom of the vessel, helping stabilize the bottle for safer, steadier transport.
Great! Now make it greener.
At Heathrow, we strive to make essential revisions to our products to better conserve our planet's health and resources. Our Safety Bottle Carriers are proudly made in the USA, eliminating any cross-sea shipping on all North American orders. Moreover, due to our carrier's handle design, it can be packaged with the handle inside the vessel, allowing for smaller and more compact packaging than the competition. This means less cardboard, less waste, and a more thoughtful design. Just how we like it.
New! Liquid Weighing Pour Boats: Convenient & Versatile Liquid Handling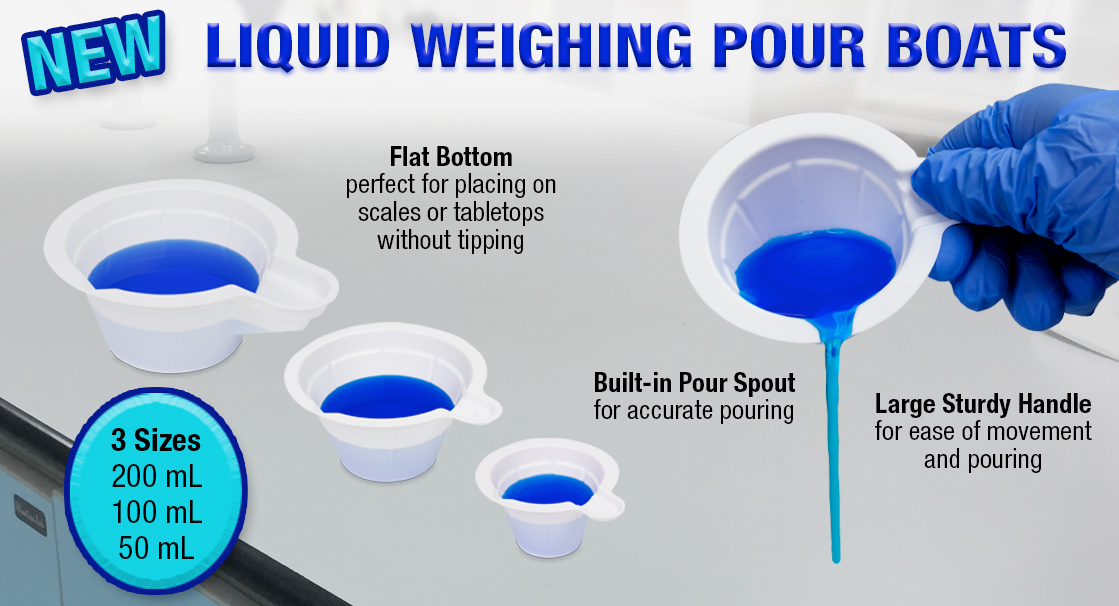 Following the success of our previous weigh boat launches, we sought to expand our portfolio with more valuable sample handling tools, starting with the Liquid Weighing Pour Boat. While this new line of pour boat can certainly be used to measure solid substances, they were mindfully designed to handle liquids with care. The boat's large handle and notched pour spout keeps you in control when moving and pouring from the vessel, while the flat bottom prevents tipping and spills.
Fully functional and versatile, these boats can hold liquids ranging from 0 to 40°C (104°F) and come in three available sizes (50mL, 100mL, and 200mL). Made from FDA food grade polystyrene in an ISO Class 8 clean room, the Liquid Weighing Pour Boats are biologically inert and resistant to diluted and weak acids, aqueous solutions, alcohols, and bases. They are also fully recyclable after use, aligning with our ongoing mission to eliminate "disposable" from our company vocabulary.